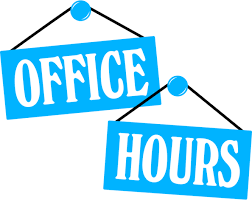 We are available the following hours:
Monday-Thursday

7:30 am – 6:00 pm
Friday

7:30 am – 2:00 pm
Saturday

8:00am – Noon
We are very flexible in our availability for appointment times!  We can usually see you the same day you call, or within a day.  We can often accommodate an early morning or an evening appointment.  Once you are established as a patient and have a chart, we can accommodate you that much more easily.  Our apology 
though, we are not a walk-in facility; however, you won't be waiting around to be served!
We may occasionally take time off to attend a continuing education seminar, or for personal time. Please be assured that we care about your needs!  We receive our messages regularly and will return your call as soon as it is possible for us. We will schedule your treatment as quickly as possible.
Contact us at (952) 474-1777
to make your appointment.
---
"You are thorough.
I don't feel rushed.
You are punctual.
You answer your phone and I can talk to the doctor.
You're flexible with the hours you are available and offer same-day appointments."
J.R., Minnetonka
---
"I've been seeing Dr. Levin for numerous problems. Extreme hip and leg pain brought me to the office. Besides that, I had problems with my right hand, both feet and lower back. Dr. Levin treated me for all areas.
I have never had a healthcare provider who spent so much time with me. Dr. Levin not only treated me in the office, but sent exercises home with me, called several times between appointments to see how I was doing, and researched my symptoms for possible cause. I truly felt better after just the first appointment, but have booked several since because it took me years to get in the bad shape I was. I didn't expect miracles after one treatment. That said, Drs. Levin and Chellen's philosophy is that they want their patients to not need their services in the future. Levin and Chellen Chiropractic is the most personal, respectful, and helpful clinic I've ever been connected with and recommend the doctors highly."
Overall:  A
Availability:  A
Office Environment:  A
Punctuality: A
Staff Friendliness:  A
Bedside Manner:  A
Communication:  A
Effectiveness of Treatment:  A
Billing and Administration:  A
Pat, Minnetonka, MN
---