The doctors of Levin and Chellen Chiropractic have long championed our patients' ability to help themselves heal and need fewer professional interventions.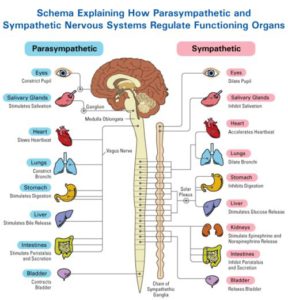 One well-documented way to do this is by harnessing the power of your nervous system.  Chiropractic care harnesses the power of the nervous system, as does massage, meditation/ mindfulness practice and, indirectly, many other well-known healthy lifestyle practices.  When referring to the nervous system here, we are specifically meaning the autonomic nervous system, or ANS.  Perhaps you remember noticing an article or two, or three, or four while listening to the news, reading popular magazines, or watching shows like Dr. Oz, which showcase the wonders of the ANS.
The ANS is made up of two oppositely functioning, yet completely interdependent halves, the sympathetic nervous system (SNS) and the parasympathetic nervous system (PSNS). For a good Wikipedia article which explains these two more thoroughly, see: ANS .  Suffice it to say here that being stuck in too much input from either one of these branches of the ANS can have serious repercussions to one's health.  The more common condition is for us to be stuck in the SNS mode with too little PSNS input.  In our clinical experience, this is not just more common but IS common.  There are a multitude of ways (read "lifestyle habits") we generate this imbalance.  Often it is a "slow-burn", or sneaky development which we won't notice before we begin to feel the effects in our lives from crabbiness/short-temperedness to high blood pressure, to succumbing to the flu.
Besides an occasional "tune-up" of your nervous system at your favorite chiropractor and disciplining yourself to follow basic healthy lifestyle principles, what can you do to re-regulate your ANS?  Breathe!
Here is an excellent article from the New York Times that will help you understand more and incorporate this simple, go-to technique into your life.  Enjoy the immediate benefits and don't forget to share this article!  Everyone needs to know this!  see; BREATHE
---
If you would like to discuss whether chiropractic care is right for you, just give us a call to schedule your complimentary consultation on the phone or in person.

 
We are waiting to help you!
Call Us for a Free Consultation!
(952) 474-1777
---
Thank you for visiting the Levin and Chellen Chiropractic web page. Please note that the information located on our site is not intended to provide specific chiropractic advice. You should consult with a chiropractic doctor and not rely on any information contained herein regarding your specific condition. We welcome the receipt of electronic mail though not for making appointments, soliciting and sales, or inquiries which need immediate response. Please be advised, however, that the act of sending electronic mail to this office or to Dr. Sharon Levin, DC or Dr. Nels Chellen, DC does not alone create a physician-patient relationship. We will neither accept requests for chiropractic advice or treatment nor offer specific chiropractic advice over the internet. The information here is presented for general information purposes only and is not intended to be used as a substitute for medical advice.